Security and Safety
Security personnel at Nauru Tower are highly trained individuals, including a certification in CPR and first aid.
They monitor a state of the art security system which has a total of 116 surveillance cameras placed in strategic locations throughout the project.
Since 1992, Nauru Tower has kept an impressive record of no vehicle thefts and no unit burglaries.
Johnson Controls AMAG 350 Access Control Systems provide pass-card entry to the main tower and secured parking garage areas. The system automatically alerts the security office when activated. It informs the security person in the office who the registered cardholder is, identifying the resident by name and unit number and also provides the station the card is being accessed from.
With this system we are able to prevent stolen cards from being used by unauthorized individuals. If a card is reported lost or stolen, the computer notifies the office that someone is attempting to use an unauthorized card. When this happens, the gate remains closed, security is notified, cameras lock in and security personnel are dispatched to apprehend the lost or stolen card.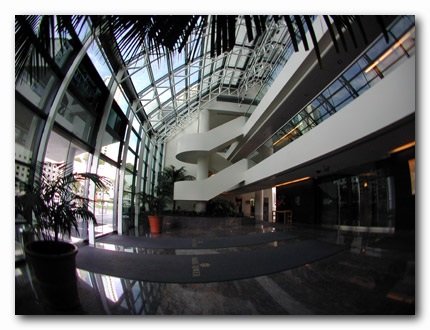 Safety has the highest priority. All units in Nauru Tower are equipped with panic buttons. When pressed, they activate an alarm in the security office and security personnel. Simultaneously, the tenant's name, unit and telephone number appear on a monitor in the security office and security personnel are dispatched to investigate.
A Simplex 2120 multiplex fire alarm system monitors smoke detectors, pull stations, sprinklers, visual stations (flashing lights) and sirens on every floor. The 2120 is also equipped with a manually controlled PA system. Through the PA, security personnel are able to speak directly to residents and guests in all common areas and individual units as well.